Reading Time:
7
minutes
Guitar as a Storyteller: The Living Language of Santana
When in legendary hands like Santana and BB King, a guitar can transcend its physical form into an emotional storyteller expressing—joy, grief, solace, and celebration—with such visceral intensity that it becomes a living entity. In the hands of a maestro like Carlos Santana, it can even serve as a time machine, transporting fans to a different time and place. This sentiment will undoubtedly resonate with those who have made Santana's music a constant companion over the years.
Santana, A Lifelong Companion
From a crisp November night in 1973 until now, my life has always had three constants: God, man's best friend, and the music of Santana.
I was with my best friend Rustom, my first German shepherd, laying at my feet; I waited eagerly for the show "In the Groove" to come on All India Radio. After a few tunes… "Evil Ways" by Santana came on. I leaned into the radio speaker, but it was still difficult to make out the words. I really wanted to crank up the volume, but I knew my mother would shout from the kitchen: "You're disturbing your father; keep it down,"
My father, Saghar Nizami – a poet and writer in Urdu, the sweetest of languages, needed silence when working in his study. My mother was the guardian, custodian, and gatekeeper of that conducive environment for my father's creativity.
The song was followed by "Oye Como Va."
Soon after, my friend and I made good use of his father's UN diplomatic mail, receiving Santana's latest albums from the US. The other item on my wish list to keep Santana's company was the Allman Brothers Live at the Fillmore East album.
Transcending Boundaries and Genres
"The guitar is your first wing. It's assigned and designed to unleash your vision and imagination…." – Carlos Santana.
Santana's music is always delivered with intense passion and soul, backed by his remarkable guitar play. This combination creates a unique sound that has become one of the world's most recognizable musical signatures. For over 40 years, from his initial days as a pioneering Afro-Latin-blues-rock fusion artist in San Francisco, Carlos Santana has been the creative force behind the music that transcends generational, cultural, and geographical boundaries.
Santana began his musical journey with the violin at age five but switched to the guitar by age eight. He started playing in Tijuana, Mexico, greatly influenced by musicians like BB King, John Lee Hooker, and T-Bone Walker. At that stage of his career, little did anyone know that he would one day become one of the world's greatest guitarists, leading an iconic band named SANTANA.
The Sound Revolution: Santana's Electrifying Performance at Woodstock
His big break came at Woodstock, where Santana and his band delivered a mesmerizing rendition of the song "Soul Sacrifice" at 22. As young men, we had our own make-believe band, faithfully mimicking every note on the guitar, drums, bass, organ, etc. To anyone watching, we must have looked like professional musicians. Good times and lots of fun before we lost ourselves in the corporate world.
Those lucky enough to attend the festival in person claim that Santana's "Soul Sacrifice" was the best performance of the entire 3-day event for which they were only paid USD750. It's hard to imagine that Santana was one of the least-known acts at Woodstock until that magical and explosive performance.
After Woodstock, I was introduced to so many other bands, but the music of Santana became part of my DNA. What a band. You can definitely call me a Santanamigo. A name given to Santana Fans in 1999.
Santana was able to captivate the half a million people attending Woodstock and audiences worldwide wherever they played. He made music that had not been heard before, at least not by me. It was all new and very exhilarating. Their repertoire was a unique fusion of jazz, blues, Afro-Caribbean rhythms—a true game-changer—and rock 'n' roll. The transformative magic lay in seamlessly blending these disparate styles into a distinct, quintessentially SANTANA sound. Their first album changed the music in the world. Today, their music stands as a legendary testament to their ground-breaking influence. I cannot imagine that, in the '70s, this band was virtually unknown.
A Generational Bridge: Santana's 'Supernatural' Connection
"There is no person that love cannot heal; there is no soul that love cannot save." – Carlos Santana.
Santana's popularity may have ebbed during the 1980s, but the band persevered, touring and creating music. The 1990s and 2000s ushered in a remarkable career renaissance. Santana successfully reinvented their sound, becoming synonymous with the younger generations with his album 'Supernatural.' Released in 1999, this album marked a significant turning point in Santana's career, teaming up with many artists representing contemporary genres in the music scene – including Wyclef Jean, Lauryn Hill, Dave Matthews, and Matchbox Twenty's Rob Thomas – Santana appealed successfully to a new, younger audience.
By the time 'Supernatural' was released, I was in my late thirties, living in Dubai and driving from one Emirate to another to oversee services provided to navy ships in port. Santana's music was my constant road companion. Yet, those of us with a few more trips around the sun remember a different Santana. We remember him collaborating with another maestro, John McLaughlin, in an album called 'Love, Devotion & Surrender' (1973). Around this time, I first encountered Santana's classic album 'Abraxas,' released in 1970. The song 'Black Magic Woman' became a staple on the airwaves, echoing from every radio station.
The line-up for the Santana band during the release of 'Abraxas' was truly legendary: Jose "Chepito" Areas (timbales and congas), Dave Brown (bass guitar), Mike Carabello (conga), Gregg Rolie (keyboard and vocals), Carlos Santana (lead guitar and vocals), Mike Shrieve (drums), with Alberto Gianquinto (piano on A4), and Rico Reyes (vocal, percussion). Each of them, without a doubt, were exceptional musicians.
Mentioning all the songs that have significantly impacted my life would require at least a hundred pages or more. But many of Santana's songs or collaborations hold a special place in my heart. I introduced his music to my kids, and I remember how I used to smile when I heard them playing it loud – the only way to enjoy Santana. When their teenage friends would come over, they'd fill my garden with his tunes, thanks to Mr. Bose.
I also introduced our three German Shepherds to his music; when we had a Santana evening (I often convinced myself that they recognized his music), the dogs would lie on the floor, fully relaxed, as if they knew the music would continue until the early hours of the morning. The music may have been loud, but they stayed by our side, eyes closed, ears perked up, enjoying the experience with us. They knew that Daddy would take them on a musical journey into the early morning hours.
A Day to Remember: Meeting the Legend
On April 2, 2003, at the Burswood Dome in Perth, Australia, Santana performed for a packed audience. I found myself in the first row of the pit, so close to the stage that I could almost count the hairs in Santana's nose as I looked up at him. The music was LOUD, very loud. As I enthusiastically chipped in on my air guitar, Santana seemed to notice my enjoyment, frequently glancing down at me, and laughing.
After one of his songs, Santana kneeled, made eye contact with me, and asked how many of us were in my group. I instinctively showed him four fingers, not fully understanding why he asked. I had no idea about after-shows back then. Little did I know that an incredible surprise awaited me. As the show continued, tough-looking guys approached me and handed me four after-show tickets. I was in awe, unable to believe what was happening. Meeting him was beyond my wildest dreams. Those around me couldn't help but feel envious.
Once the show ended, Santana left with his organist, and though I couldn't take any pictures with him, I managed to capture moments with some other band members. They were genuinely kind and humble individuals. We spent over two hours talking, and others around us couldn't help but wonder who I was to receive such special attention. Much of the discussion was about Indian food, and we all enjoyed sharing our love for dishes like Tandoori Chicken, Butter Naan, and Butter Chicken.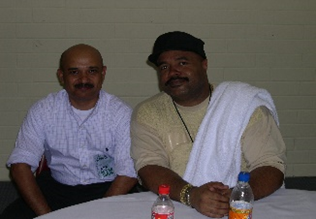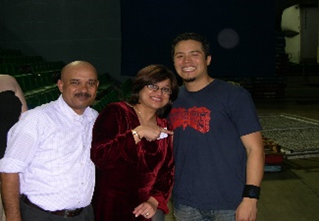 We were fortunate to see Santana live twice more in Dubai, but nothing could compare to that first unforgettable encounter. It was an incredible show, and Santana's music has continued to play a significant role in my life. His music has a profound positive effect on my mood, and it has the power to create and transform emotions within me.
During my long drives from Amman to Aqaba, Santana's music accompanies me, evoking countless fond memories. The guitar, the drums, the congas, the organ solos—everything comes together in his music, bringing immense joy to our lives.
Fifty Years of Timeless Magic: Santana's Everlasting Impact
"Become a Weapon of Mass Compassion" – Carlos Santana
Fifty years have passed, yet his music remains as fresh for me as when I heard it for the very first time on the Radio as a boy. Santana plays a significant role in my life today and is connected to many great memories of the past; of family, friends, unburdened youth, loving neighbors, and pure joy.
What makes Santana genuinely remarkable is his ability to collaborate with other musicians, seamlessly blending their distinctive individual styles with his iconic guitar solos and the backing of his talented band. Each new album is a gift, delivering one spectacular masterpiece after another.
As time ages on, Santana, like many from his generation, is getting older. He has endured health setbacks, undergoing an unscheduled heart procedure in 2001 and experiencing a stage collapse in July 2022. Selfishly, I cannot imagine a world without Santana. His music is a great contribution to all of our lives, his fans.
May he live long to continue to share his timeless songs like "Samba Pa Ti," "Let the Children Play," "Oye Como Va," "Corazon Espinado," "Evil Ways," "Hope You're Feeling Better," "Smooth," "Game of Love," "Soul Sacrifice," "A Love Supreme," and the memorable collaboration with Steve Winwood on "A Whiter Shade of Pale," among countless others. We mustn't overlook the enchanting album "Carlos Santana with Buddy Miles – LIVE," a testament to the genius of two extraordinary musicians. Also, one of his latest offerings, "Blessings & Miracles," holds a special place in my wife Muriel's heart, particularly the track "Joy" and "I Am Somebody" from the Album "All That I am."
Mr. Santana, your music has touched our lives profoundly, and you have no idea of your devoted fan base; it's huge, and we all love you. Peace….
Contributed by Akbar Iqbal Khan
Also written by Akbar Iqbal Khan, The Great David Crosby